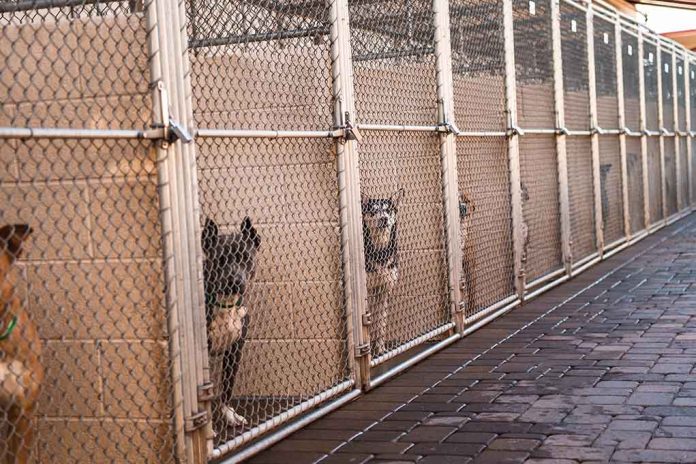 Americans Surrender Pets At ALARMING Rates — Shelters Can't Keep Up!
(UnitedCause.com) – As reported by CBS News, animal shelters are reportedly getting more pets returned to them in certain parts of the nation. As the cost of living factors such as housing, groceries, and transportation continue to rise, some pet owners face the heartbreaking decision to give up their feline or canine companions.
The Best Friends Animal Society reports that the number of cats and dogs killed in shelters in the United States increased in 2021 for the first time in five years, reaching 355,000.
So how can we support struggling shelters?
1. Volunteering
You can bring the children to interact with the animals if you'd like. Your children will get valuable knowledge about pet care from such a trip. Students will return to class having learned the value of treating animals with compassion.
Volunteering at a local animal shelter tremendously helps animals in need of affection and attention. The animals will benefit much from even an hour of your time on the weekend spent playing with them.
2. Donating to Shelters
Consider what you want for your own pet, and bring it with you when donating to a shelter. In addition, you can call a local shelter to get a list of necessities they might need donations of. The same holds for monetary donations, which can be put to good use and are always welcomed.
Any amount donated will aid a deserving animal. Shelter and rescue animals have basic needs, too, such as food and medicine. Many shelters lack the ongoing resources to provide the necessities for the animals in their care. By donating animal supplies, you may help reduce the workload.
3. Hosting a Pet
A temporary home for a pet may not seem like much, but it can mean the world to an animal in need. Spending time with a pet might change your mind about adopting one because of the joy and affection they provide to a household.
Keep in mind that people who manage rescue homes also have their own families. If you foster an animal, you're essentially giving its owner the gift of additional time with their loved ones.
Pets at shelters may feel alone and lonely. Therefore, having them stay at your place ensures proper socialization and personality development.
4. Pet Adoption
Adopting a pet is a wonderful idea if you don't already have one at home. You may meet and play with animals of various shapes and sizes at a local shelter. You'll be doing the animal the greatest favor if you're lucky enough to form a strong connection with one and bring it into your house. Having an open house after adopting a pet may benefit the lives of many animals in need.
5. Help Spread Information on Your Local Shelter Home
They could be moved by your praise of local animal shelters and decide to give adoption a try. You never know who is interested in offering their assistance to the animals.
You should expect to meet many new people when you host guests this Christmas season. Share your admiration for the fantastic work done by animal shelters to provide a safe haven for homeless pets.
6. Sending Holiday Cards to Shelter Homes
Every animal should have a shot at a happy and healthy existence. Many animals living on the streets have never known the love of a family. Make their holidays bright by donating to a local animal shelter or rescue group.
Workers put in long hours and make personal sacrifices to provide shelter for animals in need. Encouraging comments go a long way toward keeping them going. Sending Christmas greetings to the staff at a local animal shelter is a great way to show your appreciation. A donation of this size may provide them the strength to keep helping abandoned animals.
Shelters and rescue groups house animals temporarily until they can be adopted. Many shelters are already at capacity; thus, they rely heavily on donations from the public. You can help make shelters more welcoming places for pets in need.
Copyright 2022, UnitedCause.com