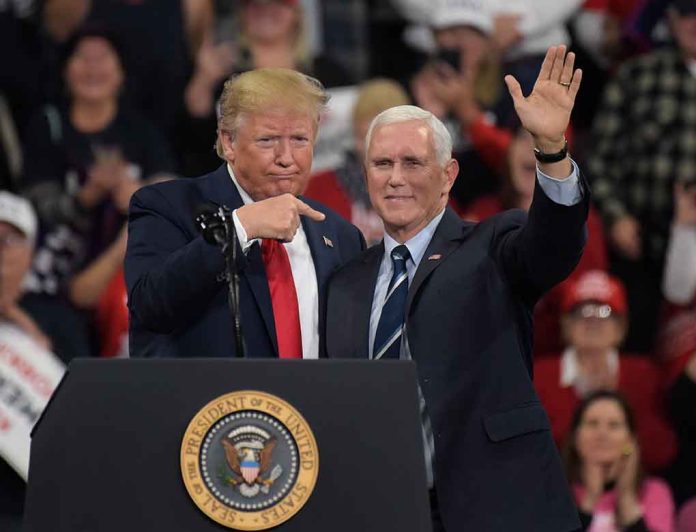 (UnitedCause.com) – President Trump laughed at the media when they learned of the 'Mike Pence Rule' and circulated stories critical of his stance. Pence's rule was based on his religious beliefs that he never dined with a woman alone if she was not his wife.
Mr. Pence, an evangelical Christian, first revealed his rule to The Hill in 2002, sometime after he was elected to Congress. A 2017 Washington Post profile about his wife, Karen Pence, reacquainted readers with his remarks. Commentators were accusing Vice President Pence of hurting women's careers.
In his new book, "So Help Me God," out in November 2022, Pence said that he was concerned entering the White House after the story came out because he didn't want to cause controversy for President Trump. Trump's good humor was a relief to him.
That morning, after all the negative press about himself, Trump informed the people in attendance at the intelligence briefing that he was surprised that they were criticizing Mike's opinions.
In his book, Pence defends his stance by saying he has promoted women to top positions. He avoids alcohol-served events without his wife in order to not send hypocritical messages or be accused of improper situations. Billy Graham inspired the rule. The 'Pence Rule' was about protecting his team and his honor by showing them to put their families first. This rule that Pence has lived by is part of his traditional marriage beliefs.
Mike Pence believed that Trump saw the hypocrisy in the press' coverage of his stance because Trump faced numerous infidelity and misconduct allegations during the 2016 campaign.
Later, Pence felt vindicated by his rule, he stated in his book. Most women think it's inappropriate for a man to have dinner alone with a non-spouse, according to a 2017 poll. The #MeToo movement accused Hollywood executives and media figures of harassment and misconduct with women.
Because of the reports going around in the press at that time, President Trump often commented that Mike Pence was "ahead of his time".
Copyright 2022, UnitedCause.com