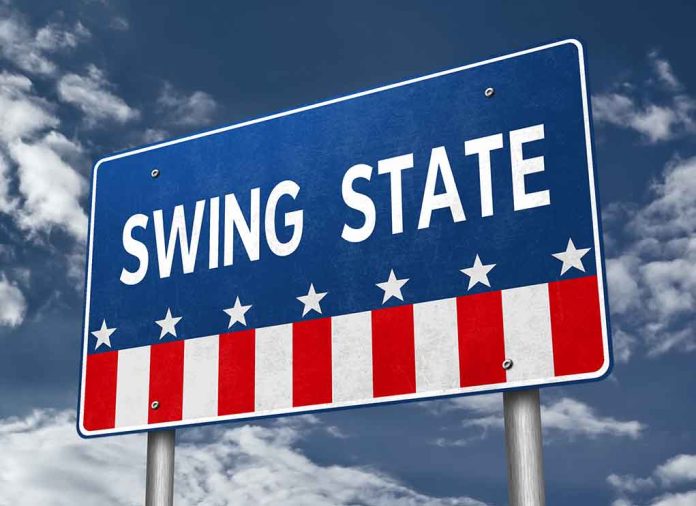 The Battle For 2022 BEGINS — Battleground States You Need To Keep An Eye On
(UnitedCause.com) – The 2022 Senate midterm elections will likely go down to the wire. Out of the 34 Senate seats available, 10 seats are still up for grabs come November 8 for Democrats and Republicans to clinch.
Whoever gets the majority of senators in the House will take up important congressional seats that decide on crucial matters, including the government's ability to implement and accomplish its agenda. Ultimately, they will have control over the country's direction in the next few years. Here are the 10 swing states or battlegrounds that might determine who controls the Senate.
Democrat States
These are states with Predominantly Democratic candidates in power:
Pennsylvania
Democrat: Lieutenant Governor John Fetterman
John Fetterman was elected on a joint ticket in 2018 with current Pennsylvania Governor Tom Wolf. He is seeking the Senate seat in the midterm elections on a Democratic ticket.
Republican: Doctor Mehmet Oz
Mehmet Oz is a reality show doctor running on the Republican ticket. He is known for his conservative stance on gun rights and abortion restrictions.
New Hampshire
Democrat: Senator Maggie Hassan
Incumbent Senator Maggie Hassan is vying for a second term, with most of her campaign centered on women's abortion rights.
Retired Army General Don Bolduc, who famously supported Trump's claims that he'd won the 2020 presidential election, is making a stub at a senatorial seat.
Georgia
Democrat: Senator Raphael Warnock
Current Senator Raphael Warnock is running for a full term after winning the closely contested January runoff. He is also a senior pastor at Ebenezer Baptist Church, where Martin Luther King Jr. was once a pastor.
Republican: Herschel Walker
A Hall of Famer and a former committee member of the Council of Sports, Nutrition, and Fitness, is vying on a Republican ticket.
Wisconsin
Democrat: Lieutenant Governor Mandela Barnes
The current Lieutenant Governor of Wisconsin is vying for Senator in the 2022 midterm elections. His efforts so far in garnering investment have gained him state-wide popularity.
Republican: Senator Ron Johnson
The incumbent Senator is seeking reelection after being elected for the first time in 2010. He's faced scrutiny on issues concerning same-sex marriage and COVID-19 vaccines.
Arizona
Democrat: Senator Mark Kelly
Senator Kelly is seeking a full-term reelection after winning the 2020 special election. Before his appointment, he served as a NASA astronaut.
Republican: Blake Masters
Blake Masters is a venture capitalist and ally of Trump for many years, publicly supporting him on several occasions.
Nevada
Democrat: Senator Catherine Cortez Masto
Current Senator Catherine Cortez Masto is seeking reelection on November 8. She served as the State Attorney General before winning the seat in 2016.
Another former State Attorney General for the state of Nevada, Adam Laxalt, is vying for a Senate seat on a Republican ticket. He's the grandson of former Governor and Senator Paul Laxalt.
Colorado
Democrat: Senator Michael Bennet
Michael Bennet is a two-term Senator seeking reelection. His campaign focuses on the infrastructural improvements he's made within the state and efforts to expand the child tax.
John O'Dea is a construction company CEO and a moderate Republican seeking a first-time election to the Senate.
Republican States
These are the states with predominantly Republican candidates:
Florida
Democrat: Rep. Val Demings
Congresswoman Val Demings is a former Chief of Police in Orlando and one of the people behind Trump's first impeachment. She was among those shortlisted for the Vice Presidency in the Biden administration.
Republican: Senator Marco Rubio
Incumbent Senator Marco Rubio is seeking a third term but faces stiff competition from Demings.
North Carolina
Beasley is a former Supreme Court justice. She was the first black Chief Justice of the Supreme Court.
With the incumbent Senator Richard Burr not seeking reelection, Ted Budd is the leading Republican candidate.
Ohio
Congressman Tim Ryan was elected to the House in 2002. After an unsuccessful stab at the presidency in 2020, he was reelected to Ohio's 13th Congressional District.
J.D. Vance is a venture capitalist and a former U.S. Marine Corps officer (from 2003 to 2007). He's also the author of the famous memoir, Hillbilly Elegy, about growing up in Middletown.
The 2022 Senate midterm elections in these states are a toss-up. While statistics attempt to predict who might come out on top, no one knows for sure what will happen in these ten states. Whatever their choice, the outcome will significantly impact how the next years of the current administration play out.
Copyright 2022, UnitedCause.com