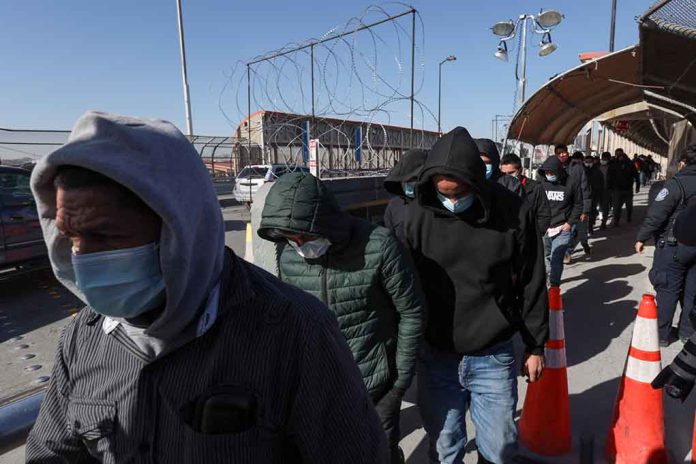 (UnitedCause.com) – A collection of mostly Republican-led states wants a federal judge to maintain the border expulsion public health rule, Title 42, in place. In a brief Monday Nov. 21st, fifteen state attorneys general asked to intervene after federal Judge Emmet Sullivan ruled against Title 42 in Nov. 2022. The policy expires on December 21, but states want it extended.
Alabama, Alaska, Arizona, Louisiana, Mississippi, Nebraska, Ohio, Oklahoma, South Carolina, Texas, Virginia, West Virginia, and Wyoming are requesting intervention.
Because invalidating Title 42 orders would affect the states negatively, they want to intercede to defend the policy so that it can be decided on the merits instead of a strategic surrender.
If Title 42 is ended, border areas like Texas and Arizona will encounter more illegal border crossings. "Those aliens will flow to other states, too," it warned, observing that they will require the states to finance obligations for hosting them involuntarily.
During the COVID outbreak, Title 42 authorized border officers to quickly remove migrants for health reasons. The Biden administration used the program despite trying to eliminate it earlier this year. The Biden administration didn't oppose Sullivan's decision to remove the rule, but requested for a temporary pause.
In their lawsuit, the states said they are against lifting the ban because of incoming migrants. Since Title 42's implementation, border authorities have deported 2.4 million migrants. When your competitors begin expressing sympathy, you know things are not going well. Henry Cuellar, a Democrat congressman from Laredo, Texas, has recently experienced this as a result of the Biden administration's decision to discontinue Title 42, a border-management tool.
Ultimately, this matter should be settled on the merits, not by surrendering to the crisis. This lawsuit centers on state costs. Allowing the states to deliver their case will protect their interests, the filing said.
Republican governors Greg Abbott and Ron DeSantis have sent migrants to states and localities that claim to be hospitable. Abbott said his state had dispatched 8,400 migrants to Washington, D.C., 3,800 to New York City, 1,200 to Chicago, and 100 to Philadelphia as of Nov. 21st..
Copyright 2022, UnitedCause.com