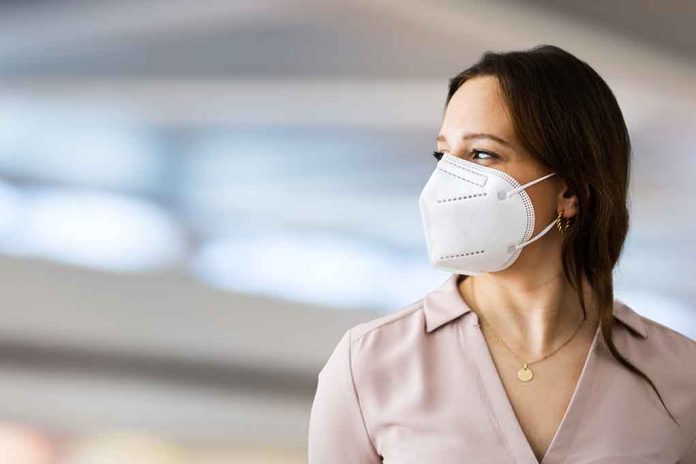 (UnitedCause.com) – In a statement published on Thursday, Dec 1, health officials in Los Angeles County indicated that there is a possibility that the mask requirement would be brought back into effect.
According to Barbara Ferrer, who serves as the Director of Los Angeles County Public Health, mandated masking inside of buildings may be brought back into effect if the county satisfies the high rate of transmission and hospital inpatient occupancy categories established by the Centers for Disease Control and Prevention (CDC).
Ferrer noted that once both of the inpatient care metrics, new COVID-19 inpatients as well as the percentage of manned in-patient beds populated by COVID patients, exceed the criterion set for the high numbers, then Los Angeles County will return to the standardized rule for masking indoors.
As of Thursday, Dec 1, the population transmission level in the county was at a medium level, according to a report by Fox Los Angeles. The frequency of 165.3 cases per 100,000 persons indicated that the disease was spreading at a modest pace. New hospitalizations were at 11.9 per 100,000 persons, and COVID-19 cases filled 5.6% of occupied inpatient beds, according to statistics from the Centers for Disease Control and Prevention (CDC).
According to the CDC, the criteria for a county to be classified as having high levels of COVID-19 spread are met when the county reaches upwards of 10 new COVID-19 admissions for every 100,000 people or when the county encounters more than 200 new COVID-19 cases for every 100,000 people.
The wearing of face masks while inside of buildings in the county is still considered to be voluntary at this time.
The county recorded 4,493 new cases of COVID-19 on Thursday, as well as 14 further fatalities related to the virus.
In September of 2022, the county government removed regulations on masking indoors when using public transportation.
Copyright 2022, UnitedCause.com